PCB Product
6 Layer PCB Prototype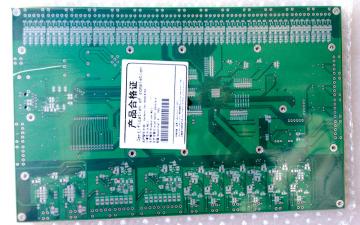 6 Layer Multilayer PCB Prototype Board, Best Iran PCB Supplier, PCB manufacturer

PCB Product Description:

> Layer Count: 6 Layers PCB
> Quantity: 6pcs PCB Sample
> PCB Board Size: 300 * 190 mm
> PCB Material: FR4
> Board Thickness: 1.6 mm
> Copper Thickness: 1OZ
> Surface Finish: Lead Free PCB
> Solder Mask: Green Solder Mask
> Silkscreen: White screen (top&bot)
> Min drill/pad: 0.3mm/ 0.6mm
> Min track thickness: 0.13mm/ 0.13mm
> Delivery Time: 8 days
> Place of destination: Iran
> Certification: UL , RoHS, ISO9001,
ISO14001, TS16949


Prototype PCB Service

* Printed Circuits Boards: Single, double-sided, and multi-layer boards
* Surfaces Finishes:HASL(lead free), Immersion gold / silver / tin, Compliant RoHs
* Solder Mask Color: Green, Blue, Black, White, Yellow, Red, and Matt,etc
* UL Certified and Quality Assurance Process:
All PCB's are made under UL certified, meets IPC-2 and ISO 9001/2008 certification.
* Lead Times: Standard delivery is one week.
* File Format: we accept standard Gerber RS-274-X format files,
that will greatly help during we use CAM350 quote and PCB Manufacturing.




Quality Assurance Procedures



EastPCB factory has passed the certification of international quality system as TS16949(2009), ISO14001(2004), ISO9001(2008), UL certified, and all of its products follow the IPC, ROHS standards at present.

In some rare occasion, if you received the boards that is not meet your PCB design file, or there are some fabrication mistakes, please point out the discrepancy between the design file and PCB board, also you can include pictures to support your claim.
YES, we will remake / rework or return all of your payment.

If you receive some PCB boards, however they are not follow your quantity, size or shape, chances are that another customer is having your PCB, please contact us immediately to swap. Please be assured this is not a common occurrence, but it maybe happen.



More PCB Products
© Copyright EastPCB Technology Limited